The Indypendent's events calendar comes out every Wednesday online and once a month in print. We provide this calendar as a service to the communities we serve in the New York metropolitan area. Sign-up for our regular e-newsletter and you won't miss a thing. If there is an event you want others to learn about, let us know.
APRIL 19–APRIL 29
Times vary • $12 & up
FESTIVAL: The Tribeca Film Festival
Through programs that embrace storytelling in all of its forms — film, TV, online work, virtual reality and music — the festival sets out to reimagine the cinematic experience and explore how art can unite communities. Visit Indypendent.org for our full coverage. Tickets, schedule and locations available at tribecafilm.com.
Manhattan
THURS APRIL 19
8PM • $35 in advance, $45 day of, 18+
MUSIC: Pharoah Sanders
Harmonically rich and heavy with overtones, Sanders possesses one of the most distinctive tenor saxophone sounds in jazz. After making a name for himself through expressionistic free jazz in John Coltrane's ensembles of the mid-'60s, Sanders' later music has taken gentler avenues in later years without sacrificing any of its intensity.
(le) poisson rouge
158 Bleecker St., Mnhtn
THURS APRIL 19
8 PM • FREE
TALK: Fifty Years Since 1968: Looking Back, Moving Forward
The Tet Offensive in Vietnam. The assassination of Martin Luther King. The French May. The Prague Spring. Black Power fists at the Olympics in Mexico City. Mayhem outside the Democratic convention in Chicago. Marching for civil rights in Northern Ireland. Occupying Hamilton Hall. 1968 turned the world upside down. Fifty years later, come celebrate the victories of that historic year of rebellion and talk about the lessons we can draw for our struggles today. Writer and activist Todd Chretien, who was suspended from Columbia University in 1994 for his role in the occupation of Hamilton Hall, leads a discussion.
Columbia University, Hamilton Hall Rm 516
Broadway and 116th St., Mnhtn
APRIL 20–26
FRI–THUR, times vary • $8
SCREENING: Lou Andreas-Salomé: The Audacity to be Free
Directed by Cordula Kablitz-Post, this historical feature tells the story of Lou Andreas-Salomé, a late 19th Century intellectual and the first female psychoanalysts. She was a radical for her time, inspiring greatness in the men in her life, including Friedrich Nietzsche, Paul Rée, the poet Rainer Maria Rilke and Sigmund Freud.
Village East Cinema
181 2nd Ave., Mnhtn
FRI APRIL 20
11:30PM–4:10AM • FREE (before midnight), 21+
PARTY: Take Me Out — a Disco Punk Party
DJs Nick Marc & Guests play music by: Franz Ferdinand, The Killers, Interpol, Arctic Monkeys, Bloc Party, LCD Soundsystem, The Rakes, The Gossip, Hercules & Love Affair, Kaiser Chiefs, Yeah Yeah Yeahs, The Rapture, Hot Chip, Miike Snow, Cut Copy, Empire Of The Sun, Passion Pit, Phoenix, CSS, MIA & more.
Knitting Factory
361 Metropolitan Ave., Bklyn
SAT APRIL 21
1PM–3:30PM • FREE
TRAINING: Medics 2.0 Training: Intoxication and Overdose
As part of the Justice Committee's efforts to build community skills in order to love and protect each other and decrease reliance on police, it is hosting a follow-up to their Emergency Medicine training last summer. This workshop will cover emergency care for community members dealing with the impacts of intoxication and overdose, including a certification in administering Naloxone for opioid overdose, facilitated by VOCAL-NY. Space is limited. RSVP in advance.
Audre Lorde Project
147 W. 24th St Fl. 3, Mnhtn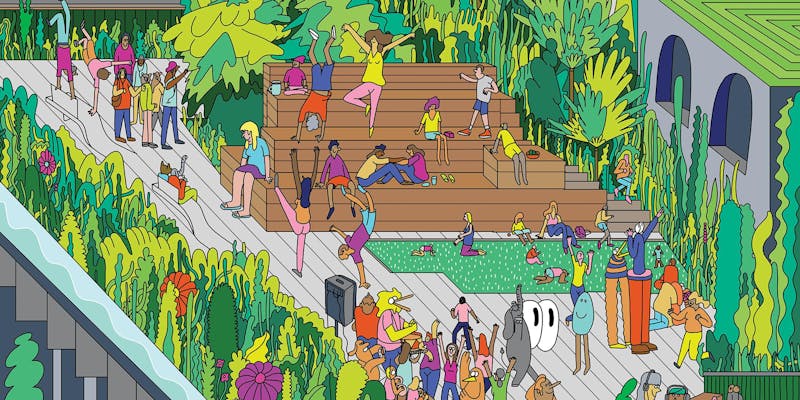 SAT APRIL 21
1PM–7PM • FREE
FESTIVAL: Culture Shock: A Free High Line Festival
Join the High Line for our annual, full-day festival of music, art, performance, horticulture, and hands-on activities.
The High Line
Meatpacking District, West Chelsea & Hell's Kitchen, Mnhtn
SAT APRIL 21
6PM–9 PM • FREE
SCREENING: The Women's Strike Goes On
This film depicts the history of female employees at public nurseries in Poznan, Poland who successfully organized against wage reductions and privatization attempts. However, their protest is still not over. They are still fighting for higher wages, a shorter working day and lower nursery fees for parents. A panel will follow the screening, featuring Magda Malin, an organizer of the International Women's Strike-Poland, and New York City union activist and pre-school teacher Rosy Clark.
Interference Archive
314 7th St., Bklyn
SAT APRIL 21
7PM–11PM • $25
MUSIC: Ambient Church: Malcolm Cecil and Steve Moore
A live performance by synth pioneer, Stevie Wonder producer and developer of TONTO, the largest synthesizer in the world, Malcolm Cecil. He'll be joined by synth wizard Steve Moore of the band Zombi.
Ambient Church
1139 Bushwick Ave., Bklyn
SUN APRIL 22
1PM–4PM • FREE
FESTIVAL: Earth Day Shore Fest Spring Kickoff
Live music, dance performances, environmental education and sustainability demos. Learn about beekeeping and how to build a solar oven.
Astoria Park
19 St. between Astoria Park S. & Ditmars Blvd, Queens
SUN APRIL 22
4PM–5:30PM • FREE
WORKSHOP: Rent History Workshop
Your landlord might be charging you too much for rent! Come learn how to request and read your rent history. Spanish translation will be available.
Mayday Space
176 St Nicholas Ave., Bklyn
TUES APRIL 24
6PM–8:30PM • FREE
EXHIBITION: "Kwel' Hoy: Many Struggles, One Front"
The opening of the exhibition "Kwel' Hoy: Many Struggles, One Front," a collaboration with Indigenous leaders and scientists that celebrates and connects communities protecting water, land and our collective future. The exhibition, which runs until August, features a totem pole carved by the House of Tears Carvers of the Lummi Nation and an ever-growing stone altar initiated by members of the Ramapough Lenape Nation and added to by members of the public. At this opening event, leaders from Lummi Nation and the Ramapough Lenape Nation will offer ceremony and songs. Members of the public are invited to bring a stone to contribute to the altar.
Stony Brook-Millstone Watershed Association
31 Titus Mill Rd, Pennington, N.J.
TUES APRIL 24
6PM–9PM • FREE
PANEL: Rana Plaza 5 Years Later: Amplifying Workers Voices Globally
This year marks the 5th anniversary of the Rana Plaza building collapse, which resulted in the tragic loss of over 1134 workers' lives, with thousands more workers injured. The scale of the Rana Plaza disaster raised global awareness about the harsh conditions of global fast fashion. This panel brings together Bangladeshi and U.S.-based artists, activists and scholars to reflect on Rana Plaza 5 years later. In addition to marking the violence and tragedy of lost lives, we hope to initiate a discussion on how we might think and act creatively in supporting workers' efforts to organize across the supply chain from garment production in Dhaka to retail workers in New York City.
20 Cooper Sq.
4th Fl., Mnhtn
WEDS APRIL 25
5PM–7PM • FREE
WORKSHOP: Black Poets Speak Out
This workshop will focus on the work of Black Poets Speak Out whose hashtag video campaign on Tumblr featured hundreds of videos from Black poets reading in response to the grand jury's decision on Nov. 24, 2014 not to indict Darren Wilson, the police officer who killed Michael Brown.
The Laundromat Project
920 Kelly St., Bronx
This is reader-supported news. Make a contribution today!
____
Photo (top): Malcolm Cecil with his synth Tonto. Listen to his strange, galactic music in Bushwick Saturday. Source: ambient.church.