The Indypendent's events calendar comes out every Wednesday online and once a month in print. We provide this calendar as a service to the communities we serve in the New York metropolitan area. Sign-up for our regular e-newsletter and you won't miss a thing. If there is an event you want others to learn about, let us know.
THRU MAY 13
Times vary • $50–$70
DANCE: Limón Dance Company at The Joyce Theater
The Limón Dance Company's showcases the resilience of the human spirit. Celebrating the 60th anniversary of Missa Brevis, Limón's masterful evocation of a community rebuilding, the company unites with a cast of dancers from around the world. Also included in the program, the company's artistic director Colin Connor's The Body is a House Without Walls, which addresses the regenerative power of memory, and The Unsung, Limón's homage to Native Americans.
The Joyce Theater
175 8th Ave., Mnhtn
THURS MAY 10
6:30PM–8PM • $5–$20
TALK: Isabel Wilkerson in Conversation
During the Great Migration, millions of African Americans moved from the rural south to urban centers in the North and West. This conversation, with audience Q&A, will explore how the Great Migration transformed our cities, politics, and culture with Isabel Wilkerson, author of The Warmth of Other Suns, an authoritative history of this pivotal moment in American history.
Federal Hall
26 Wall St., Mnhtn
THURS MAY 10
7PM–9PM • FREE
ART: How Does Your Economic Reality Affect your Activism?
The social capital of protest art has risen in the Trump era but actual resources for artists remain scarce and many channels of potential financial support run counter to the spirit of the artwork being produced. Join members of ABC No Rio (in exile), the Guerrilla Girls, Decolonize This Place and other groups for a discussion on models of sustainable art-activism and building a sustainable web of mutual support.
Bullet Space
292 E 3rd St., Mnhtn
THURS MAY 10
7PM–9:30PM • FREE
BOOKS: The DIY Porn Revolution: An Intimate POV on Kink, Sex Work, Porn and Politics
Feminist porn icon Madison Young reads from recently published autobiographical works that delve deep into sexual undergrounds of kink and sex work through a feminist lens.
Bluestockings Books
172 Allen St., Mnhtn
THURS MAY 10
7PM–10PM • FREE, 21+
PANEL: Her Girl Friday Presents: Post-Election Media Projects
For better or worse, a lot of journalists and nonfiction storytellers have seen their jobs change since the 2016 election. Join Her Girl Friday at this event to hear journalists and creators talk through how their work has evolved in the last 18 months
Starr Bar
214 Starr St., Bklyn
FRI MAY 11
8PM • $20
MUSIC: The Melvins
They inspired Nirvana and took punk to new dimensions. Don't miss these grunge legends as they take the stage in Williamsburg.
Warsaw Concerts
261 Driggs Ave., Bklyn
SAT MAY 12
1PM–6PM • FREE
MARKET: Witching Herbs Plant Market
Come make some plant friends and channel your inner green witch at the occult bookshop & spiritual community space, Catland.
Catland Books
987 Flushing Ave., Bklyn
SUN MAY 13
6PM–8PM • FREE
RECEPTION: Zeitgeist: The Art Scene of Teenage Basquiat
The opening reception for a group exhibition focusing on the artists and scene around Jean-Michel Basquiat's teenaged, pre-fame years that runs through June 10.
Howl Happening
6 E 1st St., Mnhtn
SUN MAY 13
6:30PM–8PM • $15 adults; $12 museum members, students
TALK: On Ballet: Fran Lebowitz and Nick Mauss
On the occasion of his exhibition "Nick Mauss: Transmissions," Mauss talks with author and cultural commentator Fran Lebowitz about ballet in New York in the 1970s and '80s, the crucial role played by its audiences and the lasting impact of AIDS on the city's cultural landscape.
Whitney Museum of American Art
99 Gansevoort St. Mnhtn
MON MAY 14
6PM–7:30PM • FREE
MUSIC: Free Opera at Bryant Park: Carmen
The innkeeper Lillas Pastia narrates the tempestuous story of the irresistible seductress Carmen and her hapless lover Don José in this hour-long presentation of highlights from Carmen, Georges Bizet's beloved opera, from New York City Opera.
Bryant Park
Btw Fifth Ave. & Sixth Ave. & 40th St. & 42nd St., Mnhtn
TUES MAY 15
7PM–9PM • FREE
BOOK LAUNCH: Mistaken Identity: Race and Class in the Age of Trump
Join Asad Haider in conversation with Nikhil Singh for the launch of his book Mistaken Identity: Race and Class in the Age of Trump. Whether class or race is the more important factor in modern politics is a question right at the heart of recent history's most contentious debates. Among groups who should readily find common ground, there is little agreement. To escape this deadlock, Haider turns to the rich legacies of the black freedom struggle.
Verso Books
20 Jay St, Suite 1010, Bklyn
WEDS MAY 16
6:30PM–9:30PM • $20–$100
PARTY: Cocktails For a Cause
Help amplify women's voices and raise funds for those on the front lines of promoting gender equality. Hosted by Spark NYC, all proceeds from this event go to the Tanma Federation, which empowers Burmese refugee women in Malaysia by supporting their fair trade collective.
The Penny Farthing
103 3rd Ave., Mnhtn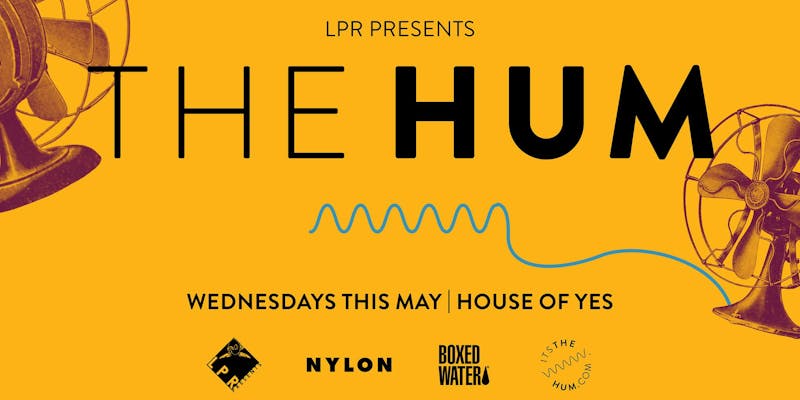 WEDS MAY 16
7PM–10:30PM • $15–$30
MUSIC: The Hum
An all-female/gender-queer music series occurring Wednesdays this May. Bunny Michael, L.K. Napolitano, Zoie Omega, Sateen and Xhosa on are on the upcoming bill.
House of Yes
2 Wyckoff Ave., Bklyn
This is reader-supported news. Make a contribution today!
---
Photo (top): The legendary grunge band The Melvins will perform in Williamsburg May 11. Credit: UT Connewitz Photo Crew.