The Indypendent's events calendar comes out every Wednesday online and once a month in print. We provide this calendar as a service to the communities we serve in the New York metropolitan area. Sign-up for our regular e-newsletter and you won't miss a thing. If there is an event you want others to learn about, let us know.
THURS MAY 24
6:30PM–8PM • $37
HISTORY: NYAM's Rare Book Room: Women and Medicine
Explore changing attitudes towards women's bodies over time with this intimate, after-hours library tour guided by two stewards of the New York Academy of Medicine's rich collection of women's medicine and midwifery texts.
New York Academy of Medicine
1216 5th Ave., Mnhtn
THURS MAY 24
7PM • $20–$25
PERFORMANCE: Filmelodic: La Folìa in Sound and Vision
Filmelodic is an award-winning collective that makes short, narrative films to accompany beloved works of classical music, creating an immersive, multi-sensual experience. In this performance, Francesco Geminiani's Concerto Grosso in D Minor will be performed live alongside Filmelodic's La Folia. Also on the bill, Brooklyn-based visual artist Lila Nadelmann creates original art live to Johan Halvorsen's Sarabande with Variations. Free beer.
Mayday Space
176 St. Nicholas Ave., Bklyn
MAY 25–MAY 27
FRI 6PM–1AM, SAT 12PM–1AM, SUN 6PM–1AM • FREE
PERFORMANCE: The Lower East Side Festival of the Arts
A massive annual performance marathon in and around Theater for the New City. Performance artists Phoebe Legere and Reno, cabaret singer K.T. Sullivan and playwright Mario Fratti are among those slated to present work at the festival now in its 23rd year.
Theater for the New City
155 5th Ave., Mnhtn
FRI MAY 25
7PM–11PM • $5
PARTY: The Legacy of SDS: Jacobin Release Party
Join our friends at Jacobin to celebrate the launch of their new issue, "1968". This event features a look back at the complicated legacy of Students for a Democratic Society with Jacobin contributors Paul Heideman and Jonah Birch. Discussion will be followed by a party.
Verso Books
20 Jay St., Suite 1010, Bklyn
SAT MAY 26
11AM–6PM • FREE
FOOD: Hester Street Fair's Lobster & Beer
The idea is simple. The folks at Hester Street Fair — a summer-long flea market, food fest and community gathering spot — get a lot of beer, the best lobster the city has to offer and invite you to chill in the park for the afternoon. $4 cans of beer. We recommend registering in advance.
Hester Street Fair
Hester St. and Essex St., Mnhtn
SAT MAY 26
12PM–6PM • FREE
ART: How to Build a Feminist Public: A Pop Up Shop
A celebration of the diversity of feminist art and literature. This event brings together artists, writers, zine-makers and publishers to table their products at SOHO20 along with scheduled readings and performances throughout the day.
SOHO20 Gallery
56 Bogart St., Bklyn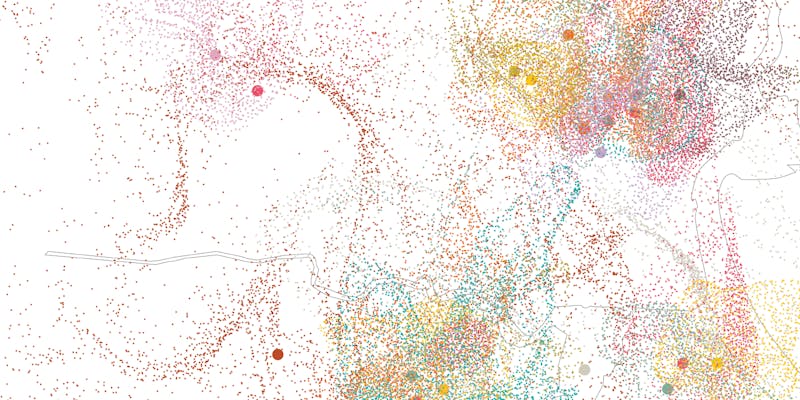 SAT MAY 26
1:30PM–3:30PM • $15–$20
TOUR: Central Park Smellwalk
Explore Central Park with your senses. Graphic designer and researcher Kate McLean has traveled the world leading "smell tours." These tours illuminate each participant's awareness of their city and neighborhood. McLean's graphic visualizations of smell can be experienced in the exhibition "The Senses: Design Beyond Vision" at Cooper Hewitt Museum. Gallery chat with McLean will be followed by a walk in Central Park with special sketching materials.
Cooper Hewitt
2 E 91st St., Mnhtn

SAT MAY 26
6PM–9PM • $10
PARTY: BRAC Rent Party Hosted by Hydro Punk
Every month, Bronx River Art Center (BRAC) provides a creative space for local musicians, DJs and bands and invites music lovers from around the Bronx and NYC to come hang in an alternative art space in the Boogie Down. May's showcase features Hydro Punk, a cultural project dedicated to developing a platform and culture scene where local Bronxites can support and elevate one another. Funds raised during this event will help defer the cost of BRAC artist studios.
Bronx River Art Center
1087 E. Tremont Ave., Bronx
SUN MAY 27
11AM–5PM • FREE
FEST: 2018 Loisaida Festival
Since 1987, the Loisaida Festival has celebrated the diverse manifestations of Puerto Rican, Latin and all the Lower East Side's diverse cultures through music, cuisine and art.
6th St.–12th St.
Avenue C, Mnhtn
SUN MAY 27
2PM–6PM • FREE
MEETUP: Wikipedia Edit-a-Thon for Asian American Literature
Come together and work to address gaps and deficiencies across Wikipedia pages related to Asian-American literature. The goal is to bolster the presence of Asian-American writers and literary organizations and make this information accessible to all. No previous Wikipedia experience necessary. Bring a laptop.
Ace Hotel New York
20 W. 29th St., Mnhtn
SUN MAY 27
8:30PM–10PM • $7
COMEDY: My Obituary Show
A lineup of comedians read their own obituaries. Featuring: Jess Dweck (Netflix's "Big Mouth," "SMILF"), Nicole Silverberg ("Full Frontal with Samantha Bee"), Evan Waite ("Kimmy Schmidt"), Sean Crespo ("Full Frontal with Samantha Bee") and Dina Hashem ("Conan").
Q.E.D.
27-16 23rd Ave., Queens
MON MAY 28
7PM–9:30PM • FREE
READING: Get On The Stage
An open mic based around uplifting and centering the voices of queer/trans people of color, trans, two spirit, gender non-conforming, non-binary, intersex and anyone who falls between the margins of labels. Performers encouraged to bring poems, prose, music, stand-up and spoken word of any kind.
Bluestockings Bookstore, Café, & Activist Center
172 Allen St., Mnhtn
MAY 29–JUNE 24
8PM • FREE
THEATER: Othello
Set amid war and palace intrigue in the 17th-century Mediterranean, this classic drama about a noble black Venetian general whose marriage is sabotaged by theater's most infamous villain, Iago, remains Shakespeare's most urgent and relevant tragedy. A lush, romantic vision gives way to the violent tangle of love and jealousy, race and revenge. Tony-winner Ruben Santiago-Hudson directs. Visit publictheater.org for ticketing information.
Delacorte Theater
Central Park, Mnhtn
This is reader-supported news. Make a contribution today!
---
Photo (top): A gargantuan puppet marches through the Lower East Side at Loisaida Fest. Credit: Ryan John Lee.