The Indypendent's events calendar comes out every Wednesday online and once a month in print. We provide this calendar as a service to the communities we serve in the New York metropolitan area. Sign-up for our regular e-newsletter and you won't miss a thing. If there is an event you want others to learn about, let us know.
THURS MAY 31
8PM–11:30PM • FREE W/ RSVP
SCREENING: Rooftop Films: Nancy
A provocative psychological thriller about love, intimacy, trust and what happens when lies become truth. Craving connection with others, Nancy creates elaborate identities and hoaxes under pseudonyms on the internet. When she meets a couple whose daughter went missing thirty years ago, fact and fiction begin to blur in Nancy's mind and she becomes increasingly convinced these strangers are her real parents.
MetroTech Center
4 Metrotech Ctr, Bklyn
FRI JUNE 1
2PM–7PM • FREE
TOUR: El Barrio NYC Trolley Tour
Tour the murals, sculptures and street art of East Harlem, while sipping on refreshing cocktails. Learn the stories behind the art works on a guided trolley tour. Libations provided by Yave Tequila. Three boarding times: 2 p.m., 3:45 p.m. and 5:15 p.m.
162 E 104th St., Mnhtn
JUNE 1–JUNE 3
FRI–SUN, times vary • $0–100
CONFERENCE: Left Forum
Panels, workshops, film screenings at the largest annual gathering of left-wing troublemakers, thinkers, artists, journalists, writers and publishers in North America. Speakers include Jane Sanders and Democracy Now's Juan Gonzalez.
John Jay College
524 W 59th St., Mnhtn
SAT JUNE 2
10AM–6PM • $0–$100
FESTIVAL: 7th Annual Bushwick Collective Block Party
Live street art and music. Ja Rule and others perform.
The Bushwick Collective
Troutman St. at Saint Nicholas Ave., Bklyn
SAT JUNE 2
8PM–2AM • FREE
MUSIC: Backyard Listening with DJ SoulBrother#4
Born in Haiti and raised in Elmhurst, Queens, Ron Jean-Gilles brings a lifetime of far-flung musical influences to bear as DJ SoulBrother#4.  Enjoy Nowadays' backyard, play ping pong, have a drink, grab a bite, lie in the grass or all of the above while SoulBrother lays down the beats.
Nowadays
56-06 Cooper Ave., Queens
SAT JUNE 2
9PM • $10
MUSIC: Hip Hop Resists!
An evening of art and resistance featuring performances by Lowkey, Wise Intelligent, Rebel Diaz, Tef Poe, Audry Funk, King Capo.
Starr Bar
214 Starr St., Bklyn
SUN JUNE 3
11AM–4PM  • FREE
RECREATION: Discovery Day at Freshkills Park
Experience the unique landscape and spectacular views this landfill-to-park project has to offer. Explore this future park while the site is closed to the public. Hundreds of miles of trails will be open for tours, bicycling and activities for all ages.
Freshkills Park
350 Wild Ave., S.I.
SUN JUNE 3
11AM–6PM • FREE
FESTIVAL: 16th Annual Drums Along the Hudson
A Native-American festival and multicultural celebration.
Inwood Hill Park
Lotus Music and Dance
310 Riverside Drive, Mnhtn
JUNE 4–JUNE 10
12 PM, MON–FRI • FREE
PROTEST: Take Back the EPA!
Live street theater, singing, chanting, mourning, fighting back, leafletting and righteous noise at the NYC Office of the Environmental Protection Agency every weekday from noon to 1 p.m.
290 Broadway, Mnhtn
TUES JUNE 5
6:30PM–9:30PM • FREE
MUSIC: Common
Socially-conscious hip-hop performer and actor Common kicks off this summer's Celebrate Brooklyn concert series.
Prospect Park Bandshell
9th St. and Prospect Park West, Bklyn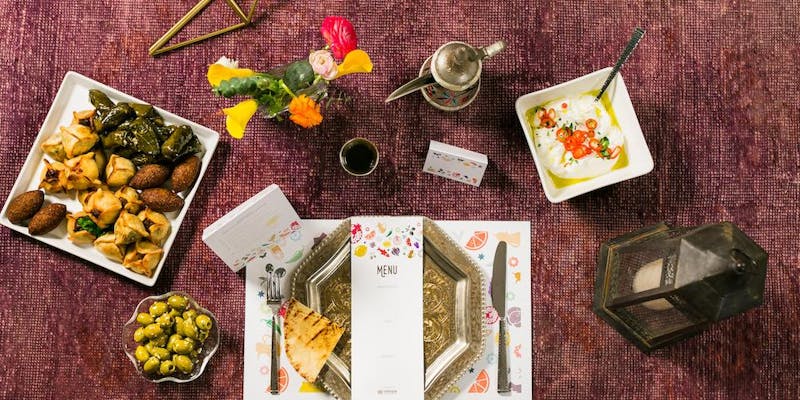 TUES JUNE 5
7:30PM–10PM • $70 & up
FOOD: Iftar for Gaza with UNRWA USA
In the spirit of Ramadan, UNRWA USA hosts an experiential and interactive charitable Iftar (fast-breaking) for Gaza. The dinner will feature authentic Middle Eastern cuisine, hosted at Casa La Femme in Manhattan's West Village. This event will evoke a day in the life of a Palestine refugee in Gaza. Proceeds contribute to UNRWA food assistance for Palestine refugees living in the blockaded Gaza Strip.
Casa La Femme
140 Charles St., Mnhtn
WED JUNE 6
7PM–10PM • FREE
GATHERING/BOOK LAUNCH: The Battle for Paradise (La Batalla por el Paraíso)
An urgent conversation about how the forces of shock politics and disaster capitalism are seeking to undermine a radical, resilient vision for a just recovery in Puerto Rico. With videos from JunteGente and The Intercept, an art build, community tables and a book signing by author Naomi Klein.
Great Hall at Cooper Union
7 E. 7th St., Mnhtn
JUNE 6–JUNE 10
WEDS–SUN, times vary • $75 & up
FESTIVAL: Northside Festival 2018: Tenth Anniversary
Find your new favorite band, discuss the future of journalism, join a massive block party at the celebration of Brooklyn's creative spirit.
Williamsburg, Bklyn
This is reader-supported news. Make a contribution today!
---
Photo (top): Nowadays, an outdoor-indoor venue featuring beer, food, live music and ping pong. Credit: facebook.com/nowadaysnyc.