The Indypendent's events calendar comes out every Wednesday online and once a month in print. We provide this calendar as a service to the communities we serve in the New York metropolitan area. Sign-up for our regular e-newsletter and you won't miss a thing. If there is an event you want others to learn about, let us know.
THURS AUG 23
6PM–9PM • $75–$150
PARTY: Beer & Bocce Benefit
Brooklyn-made brews, lawn games and live music by the Strung Out String Band. Proceeds provide support for the Brooklyn Botanical Garden's educational and community programs and collections.
Brooklyn Botanic Garden
990 Washington Ave., Bklyn
THURS AUG 23
6:30PM–9:30PM
MUSIC: Vinyl Nights with the MM Crew
Vinyl record DJs offer up classic dance music — disco, boogie, house and more.
Plaza 33
1 Penn Plz, Mnhtn
FRI AUG 24
8PM–12AM • $15
PARTY: Socialist Semi-Formal
Dress your best, or just wear red and raise money for the Democratic Socialists of America.
Verso Books
20 Jay St., Suite 1010, Bklyn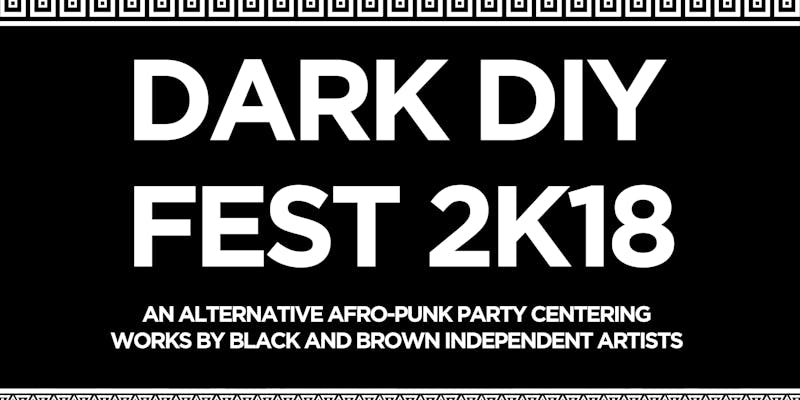 DARK DIY FEST 2018
11AM–10:30PM • $15
PERFORMANCE: Black DIY Fest
Building on the energy and appreciation for black art catalyzed by Afropunk Brooklyn, Dark DIY features a lineup of independent, underground, experimental and extreme performances that represent the core ethos of the Black DIY punk movement.
Color Scenes
5 Central Ave., Bklyn
SAT AUG 25
7:30AM–4:30PM • FREE, donations welcome
NATURE: Jamaica Bay Shorebird Festival
Learn about behavior, biology and how to identify shorebirds in the field with local naturalists.
American Littoral Society–Northeast Chapter
28 W. 9th Rd, Queens
SAT AUG 25
4PM–9PM • FREE
FOOD: The Bronx Night Market
The largest monthly celebration of food and drink in the Bronx. Forty vendors, art and live music.
1 Fordham Plz, Bronx
SAT AUG 25
4PM–11PM • $22.50–$25
MUSIC: Mosh for Paws
Line-up includes Recon, Knuckle Up, Phantom Pain. There will be a dog adoption meet and greet between 4 p.m. and 6 p.m. hosted by NJ STRAYS and All Humane Animal Rescue.
Debonair Music Hall
1409 Queen Anne Rd., Teaneck, N.J.
SUN AUG 26
10AM–4PM • FREE
PARTY: Boogie on the Boulevard
The center lanes of the Grand Concourse from 162nd Street to 170th Street will be closed to cars and open to a world of music, art and fitness.
Bronx Museum of the Arts
1040 Grand Concourse, Bronx
SUN AUG 26
4:30PM • $15
MUSIC: Music Against Mass Incarceration w/ Guerilla Toss, Sunwatchers, Kyp Malone
A bi-annual musical benefit uniting the New York music community in the fight against authoritarianism.
Secret Project Robot
1186 Broadway, Bklyn
MON AUG 27
7PM–9:30PM • FREE
PERFORMANCE: Get On The Stage
An open mic based around uplifting and centering queer and gender non-conforming voices of color. Speakers can bring poems, prose, music, stand-up and spoken word of any kind. Signups start onsite at 7PM. Cis white queer folks are prohibited from participating but are encouraged to attend.
Bluestockings Bookstore, Café, & Activist Center
172 Allen St, Mnhtn
TUES AUG 28
7PM–10PM • FREE
PERFORMANCE: Voices of A People's History
Mark the 55th anniversary of the March on Washington, at this special event in Central Park featuring live readings from Howard Zinn's People's History of the United States and music in a celebration of resistance and radical struggle. Performers include: Rosanne Cash, Marisa Tomei Uzo Aduba, Laura Gomez, Celisse Henderson and Viggo Mortensen.
Rumsey Playfield, Central Park
71st St & East Drive, Mnhtn
TUES AUG 28
8PM • $10–$12, 21+
MUSIC: Silent Weapons ft. Armand Hammer
Proceeds go to the Black Alliance for Just Immigration.
Holo
1090 Wyckoff Ave., Bklyn
AUG 28–AUG 31
TUES–FRI, 8:30PM • $30–$40 per show
MUSIC: Charlie Parker's Birthday Celebration
Some of the biggest names in Jazz celebrate the Bird's birthday at his namesake. Visit birdlandjazz.com for details.
Birdland Jazz Club
315 W. 44th St., Mnhtn
This is reader-supported news. Make a contribution today!
---
Photo (top): Chow down in the Bronx this Saturday. Credit: Twitter/@thisisthebronx.