The Indypendent's events calendar comes out every Wednesday online and once a month in print. We provide this calendar as a service to the communities we serve in the New York area. Sign-up for our regular e-newsletter and you won't miss a thing. If there is an event you want others to learn about, let us know.
THRU NOV 3
TUES–SAT 10AM–6PM • FREE
ART: Fred W. McDarrah: New York Scenes
Features 100 vintage black and white prints spanning the late 1950s to the mid-1970s, this exhibit presents McDarrah's most iconic images alongside never-before-seen work from his extensive archive.
Steven Kasher Gallery
515 W. 26th St., Mnhtn
THURS SEPT 27
6PM–10PM • FREE
MUSIC: Angélique Kidjo's Remain in Light/Resistance Revival Chorus
Angélique Kidjo, the Grammy Award-winning Beninese songwriter, is touring the world in anticipation of Remain in Light, a cover album of the Talking Heads' 1980 album. She is joined by the Resistance Revival Chorus, who performed with Kidjo at the Women's March on Washington.
Rumsey Playfield
Central Park, Mnhtn
SEPT 28–DEC 28
FRI 6PM–8PM • FREE
CLASS: Marx, The Poverty of Philosophy & Other Works
Read some Marx and talk about it at this class hosted by the New York Marxist Studies Collective. Knowledge is power.
CUNY Graduate Center, Rm 5489
365 Fifth Ave., Mnhtn
SEPT 28–SEPT 30
Times vary • FREE
ART: Méxtasis: Se Habla Arte Mexicano
Artist Olivie Ponce, a Mexican immigrant, couldn't find a gallery in New York devoted to artists like himself so he decided to found his own. This exhibition presents six artists who work and produce both in Mexico and the United States — a condition that contributes to the diversification of their ideas. Through their artworks, the artists manifest a will to heal and a connection to their cultural roots. There will be an opening party on Friday from 7 p.m. to 10 p.m. And the exhibit will be on view from noon until 7 p.m. over the weekend as part of BOS Bushwick Open Studios.
Méxtasis
10 Cypress Ave., Bklyn
SAT SEPT 29
9AM–4PM • $15–$45
CONFERENCE: Troublemakers School
A day of skill-building workshops, education and strategy discussions to put some movement back in the labor movement. Hosted by Labor Notes magazine.
The James Baldwin School
351 W 18th St., Mnhtn
SAT SEPT 29
2:30PM–4AM • $50–$225
FEST: Brooklyn Comes Alive
Bringing together some of the best and most talented musicians to deliver one jam-packed day filled with unique collaborations, all-star tribute sets and one-time-only super-groups at three renowned music venues: Brooklyn Bowl, Music Hall of Williamsburg and Rough Trade, all within a six-block radius of each other along Wythe Avenue. Details at brooklyncomesalive.com.
Williamsburg, Bklyn
SAT SEPT 29
4PM–9 PM • $0–$25
FUNDRAISER: Keeping it Cool: a Benefit for Interference Archive
A night filled with friends, refreshments and social movement history, as Interference Archive celebrates one year in our new home on 7th Street. Special programming for kids from 4 p.m. to 6 p.m. Advance tickets are $20 for adults, $5 for kids between 6 and 16 and free for kids under 6. Tickets will be available for $25 at the door.
Interference Archive
314 7th St., Bklyn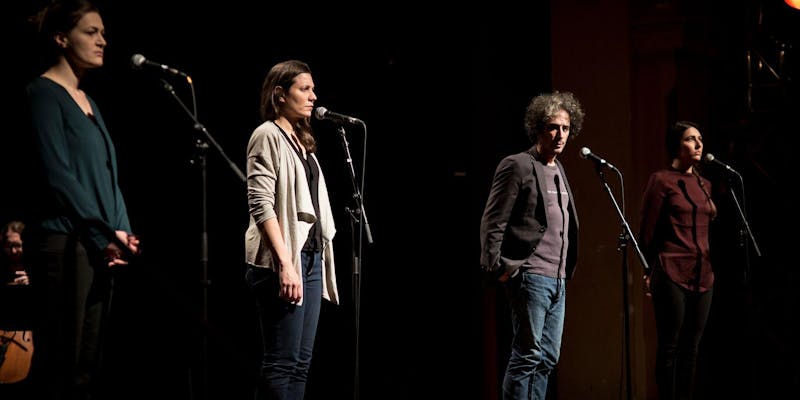 SAT SEPT 29
6PM–9:30PM
PERFORMANCE: The NSU Monologues: A Performance by Actors for Human Rights
Featuring the voices of Elif Kubaşık, Adile Şimşek and İsmail Yozgat — relatives of victims of the National Socialist Underground, a far-right terrorist group that murdered ten people in Germany between 2000 and 2007. With their testimonies, they reclaim the space for a very personal, historically accountable and anti-racist mode of remembrance.
Kraine Theater
85 E4th St., Mnhtn
SUN SEPT 30
11AM–5PM • $3–$5
MUSIC: The Vinyl Revolution Record Show
Door prizes, record supplies and thousands of rare and collectible vinyl records. DJ Spag 69 spins all day. Authentic Czech and Slovak delicacies. Beer!
Bohemian Hall & Beer Garden
29-19 24th Ave., Queens
SUN SEPT 30
5PM–7PM • FREE
BOOK LAUNCH: Silvia Federici: Witches, Witch-Hunting, and Women
In this new work, Federici revisits some of the main themes of her seminal feminist text, Caliban and the Witch, examining the root causes of a new surge of interpersonal and institutional violence against women. As well as an investigation into the causes of this new violence, the book is also a feminist call to arms.
Common Notions
314 7th St., Bklyn
MON OCT 1
7–8:30PM • FREE (with RSVP)
POETRY: Elegy for Liu Xiaobo
PEN America and Graywolf Press pay homage to the late Nobel Peace Prize winner, poet and activist, Liu Xiaobo (1955–2017) with an evening of readings by Chinese dissident, poet and folk musician Liao Yiwu, Liu Xiaobo's former student, Wang Dan, and others.
McNally Jackson, Williamsburg
76 N. 4th St., Bklyn
MON OCT 1
7PM–9:30PM • FREE
WORKSHOP: Writing to Celebrate Survivors of Sexual Assault, Harassment & Patriarchy
As a writer and a survivor of sexual assault, Genevieve Pfeiffer facilitates writing workshops to help students overcome the traumatic experiences of sexual assault and sexual harassment. This writing group which provides a support network and encourages creativity. The purpose of this writing workshop is to provide a safe space for survivors so that we can regain control and power.
Bluestockings Bookstore, Cafe & Activist Center
172 Allen St., Mnhtn
TUES OCT 2
7PM–8:30PM • FREE
BOOK LAUNCH: New Dark Age: James Bridle and Atossa Araxia Abrahamian
Technologist, writer and artist James Bridle's New Dark Age challenges our acceptance of technology as a value-neutral tool, one to be freely employed for our own betterment, arguing that in failing to adequately understand new emerging technologies, we are in fact opening ourselves up to a "new dark age." Bridle will join in conversation with Atossa Araxia Abrahamian, author of The Cosmopolites: The Coming of the Global Citizen.
Housing Works Bookstore Cafe
126 Crosby St., Bklyn
---
Photo (top): Angélique Kidjo brings funky beats and a soaring voice to Talking Heads classics and Beninese originals in Central Park on Sept. 27. Credit: City Parks Foundation.