The Indypendent's events calendar comes out every Wednesday online and once a month in print. We provide this calendar as a service to the communities we serve in the New York area. Sign-up for our regular e-newsletter and you won't miss a thing. If there is an event you want others to learn about, let us know.
THRU OCT 20
11AM–6PM • FREE
ART: Chitra Ganesh: Her Garden, A Mirror
Chitra Ganesh continues her exploration of gender and power in this solo exhibition that takes as a point of departure the utopian, feminist, sci-fi novella from 1905, Sultana's Dream by Bengali author and social reformer Begum Rokeya Sakhawat Hossain. These new works in printmaking, sculpture and video engage artistic, historical and literary sources to further reimagine the roles of the individual and the collective during periods of societal turbulence.
The Kitchen
512 W 19th St., Mnhtn
THURS OCT 11
5:30PM–7:30PM • FREE
ART: Bearing Witness to the Incarcerated Girls of New York
Incorrigibles, an organization focused on juvenile justice with and for girls using multimedia storytelling opens this exhibit on the International Day of the Girl. It features works from Alison Cornyn's of Incorrigibles; Beth Thielen, known for her one-of-a-kind artists books and public art projects; written works by girls and women who currently and formerly incarcerated; and Aaliyah, a young artist enrolled in an alternative to incarceration program at the Brooklyn Federal Courthouse. Works on view through mid-January.
Charles P. Sifton Gallery, Brooklyn Federal Courthouse
225 Cadman Plaza E., Bklyn
THURS OCT 11
6PM • $25–$105
PARTY: War Resisters League's 95th Anniversary Celebration
War Resisters League commemorates nearly a century of vibrant, cross-movement community building by honoring activists committed to peace and justice.
DCTV
87 Lafayette St., Mnhtn
THURS OCT 11
6:30PM–9PM • FREE
SCREENING: The Iron Triangle
For decades, the Iron Triangle at Willets Point in Queens has been the site of an interconnected network of hundreds of small auto repair shops. But with the Iron Triangle declared a blight and marked for lucrative redevelopment, the working class of Willets Point face off against gentrification and urban renewal for the future of their livelihoods and community. A discussion will follow this documentary screening.
New York Public Library – Seward Park Branch
192 E. Broadway, Mnhtn
FRI OCT 12
7PM–10PM • FREE
SCREENING: The VVitch: A New-England Folktale
A special screening of the historical mystery-horror film hosted by the Democratic Socialists of America's Socialist Feminist Political Education Committee. Pizza and a wide array of draft beers available.
Cherry Tree Bar 65
65 4th Ave., Bklyn
FRI OCT 12
7:30PM • $15–$20
MUSIC: Famous Last Names
Coltrane. Mahler. Schumann. These names loom large in music history. But the men who made them famous were not the only musical minds in their families — Alice (Coltrane), Alma (Mahler) and Clara (Schumann) were world-class composers. Come celebrate these voices of genius that past ages tried to ignore but history can't forget at the Groupmuse event. The Urban Playground Chamber Orchestra plays their works.
Pied Piper Children's Theater
20 Cumming St., Mnhtn
SUN OCT 14
3PM–5PM • FREE
SCREENING: The Rape of Recy Taylor
Recy Taylor, a 24-year-old black mother and sharecropper, was gang-raped by six white boys in 1944 Alabama. Common in Jim Crow South, few women spoke up in fear for their lives. Not Recy Taylor, who bravely identified her rapists. The NAACP sent its chief rape investigator Rosa Parks, who rallied support and triggered an unprecedented outcry for justice.
Nazarene Congregational Church
506 Macdonough St., Bklyn
OCT 15–NOV 19
MON, 6PM–7:30PM • $18 a session
DANCE: Afro-Puerto Rican Bomba Dance w/ Julia Gutierrez
Tap into one of the oldest dance and musical practices of the Caribbean during this special class offered by one of today's most noted Bomba dancers, Julia Gutiérrez-Rivera. Classes feature live drumming and are open to all skill levels and appropriate for all genders.
Fit4Dance
778 Nostrand Ave., Bklyn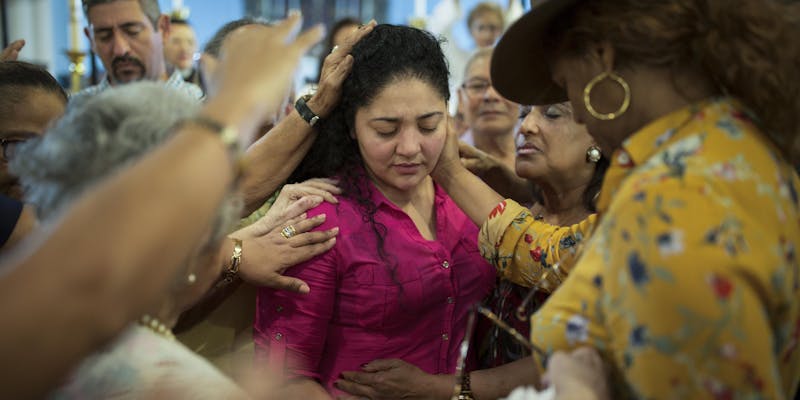 MON OCT 15
6:30PM–8PM • FREE
PHOTOGRAPHY: Living in Sanctuary: An Evening with Cinthya Santos-Briones
Documentary photographer Cinthya Santos-Briones will share her latest work from her ongoing, long-term project about undocumented families living in sanctuary in NYC churches. Angelo Guisado, staff attorney at the Center for Constitutional Rights, and Anu Joshi, Immigration Policy Director at the New York Immigration Coalition join her to discuss strategies for resisting President Trump's draconian immigration policies.
59 East 4th St., Rm 7W, Mnhtn
MON OCT 15
6:30PM–8:30PM • FREE
PANEL: Reporting on Immigration
Journalists and grassroots advocates discuss the impact immigration coverage has had on immigrant communities and explore ways reporters can amplify the stories of immigrants more safely, ethically and effectively. Panel moderated by Garry Pierre-Pierre, founder of the Haitian Times and CUNY's Center for Community and Ethnic Media.
The New School Welcome Center
72 Fifth Ave., Mnhtn
TUES OCT 16
6:30PM–8PM • $10
HISTORY: The Not-So-Sweet History of Sugar
Join social historian, York College professor, and author of Sugar: The World Corrupted, From Slavery to Obesity, James Walvin, as he uncovers the fraught history of one of our most prevalent ingredients. From its role in catalyzing colonialism and slave trading, to its current contributions to health crises, Walvin delivers this history without any sugar coating.
Brooklyn Historical Society
128 Pierrepont St, Bklyn
TUES OCT 16
7PM • $35–50
ART: Bronx Documentary Center's Photo Auction Benefit
An opportunity to bid on works by renowned photographers and be a part of an event that will bring together hundreds of documentarians. Tickets include an open bar and food from Allswell. DJ Jose Valerio lays down a set of house, disco, jazz, soul and more. Bidding is open now. Funds raised will directly support benefit the BDC's education programs.
Brooklyn Brewery
79 N. 11th St., Bklyn
WED OCT 17
7PM–9PM • $6–$15
HISTORY: Music, Resistance, Repression
Using music, video selections, news clippings and records from extensive Freedom of Information Act filings — including never before released material — historians Mat Callahan and Aaron Leonard tell the story of how some of the most prominent folk singers of the twentieth century were subject to government surveillance and suppression.
The People's Forum
320 West 37th St., Mnhn
OCT 17–OCT 19
WEDS–THUR, 7:30PM–8:30PM • FREE
MUSIC: New Sounds Live: David Bowie's Berlin Trilogy
Curated by WNYC's John Schaefer, the return of this annual music series features an all-star indie rock lineup performing David Bowie's Berlin Trilogy — 1979's Lodger, 1978's Heroes and 1977's Low — led by Shearwater's Jonathan Meiburg. One album will be performed in its entirety each night and each concert will open with short programs of music that inspired the trilogy composed by Brian Eno and Klaus Schulze.
Brookfield Place New York
230 Vesey St., Mnhtn
---
Photo (top): This movie will scare the shit out of you. Good thing you can watch it with some comradely feminists, surrounded by pizza and beer. Wouldst thou like to live deliciously? Catch The VVitch on Friday at the Cherry Tree in Brooklyn. Credit: A24.