The Indypendent's events calendar comes out every Wednesday online and once a month in print. Sign-up for our regular e-newsletter and you won't miss a thing. If there is an event you want others to learn about, let us know.
THURS OCT 25
2:20PM–3:45PM • FREE
TALK: Oscar López Rivera: Puerto Rico's Future
Puerto Rican independence leader Oscar López Rivera spent 35 years in prison for "seditious conspiracy" until his sentence was commuted by President Obama in 2017. He discusses the state of the independence movement in the context of the island's ongoing financial crisis and Hurricane Maria.
Guthart Cultural Center Theater at Hofstra University
779 Hempstead Turnpike, Hempstead, NY
THURS OCT 25
6PM–7:30PM • FREE
SCREENING: The Battle of Algiers: A Film Within History
With excep­tio­nal archival mate­rials and inter­views, Malek Bensmaïl's docu­men­tary about Gillo Pontecorvo's legendary 1965 film, The Battle of Algiers, looks back at cinema half­way between history and legend. Bensmaïl will be on hand for a discussion after the screening.
Columbia Maison Française
515 W. 116th St., Buell Hall 2nd floor, Mnhtn
THURS OCT 25
6:30PM–9:30PM • FREE
TALK: Mexico after Elections: Steps Forward
A discussion on Mexico in light of recent elections and how people's movements are analyzing this moment in history.
The People's Forum
320 W. 37th St., Mnhtn
OCT 26–OCT 28
FRI–SUN, 12PM–6PM • FREE
FESTIVAL: Day of the Dead/Día de Muertos Festival
Remember your departed loved-ones by bringing copies of photographs to be part of the ofrenda (altar) and honor them throughout this three-day celebration. Featuring: art, live music, Mexican food and a folk art market. Dedicated to the victims of recent earthquakes in Mexico and to all the departed. Hosted by Mano a Mano: Mexican Culture Without Borders.
St. Mark's Church in-the-Bowery
131 E. 10th St., Mnhtn
FRI OCT 26
7PM–12AM • $5–$10
PARTY: Real Monsters!
Freddy Krueger may chase us in our nightmares, but plenty of real monsters — landlords, bosses, wardens and bankers — stalk us during our waking hours. Drink and dance away the horrors of medical debt, college loans and high rents. Proceeds benefit Mayday Space, a multi-story organizing center and social hub in Bushwick.
Mayday Space
176 St Nicholas Ave., Bkyln
FRI OCT 26
11:30PM • $12–$15, 21+
MUSIC: Sade vs. Badu
Flips, remixes and original tracks from the soul divas, plus other inspired classics.
Brooklyn Bowl
61 Wythe Ave., Bklyn
SAT OCT 27
11AM–5PM • FREE
HISTORY: The Legacy Project: Archives for Black Lives
Rooted in perseverance and self-documentation, this hands-on, intergenerational event gathers  Black memory workers from across the country to explore the purpose and need of archives for Black lives. Do you or your folks have a special or important physical photo that you don't know what to do with? The experts with the Legacy Project will share their knowledge and resources with you.
Weeksville Heritage Center
158 Buffalo Ave., Bklyn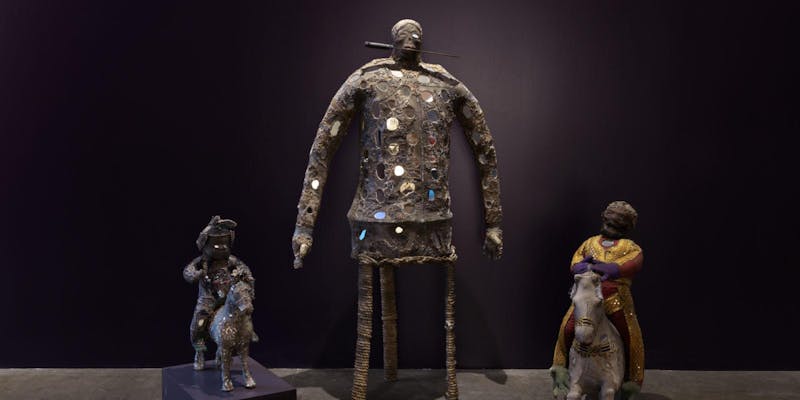 SAT OCT 27
5:30PM–8PM • FREE
Panel: Afro-Gothic
Afro-Gothic is an aesthetic means of coping with the trauma of colonial slave history. Combining the African diaspora imaginary with the European literary genre, the term describes both beauty and terror, sex and violence, a "slave sublime" haunted by figures like the ghost or zombie, which has its origins in Haitian folklore. For this panel, held in conjunction with the PÒTOPRENS: The Urban Artists of Port-au-Prince (on view through Nov. 11), scholars discuss the ways in which colonial history, hauntings and Vodou, and accumulated excess and assemblage manifest as an Afro-Gothic aesthetic in Haitian contemporary art.
Pioneer Works
159 Pioneer St., Bklyn
SAT OCT 27
7PM • $25–$30
MUSIC: Lee Scratch Perry
The legendary dub producer celebrates the 45th anniversary of his seminal album, Blackboard Jungle Dub, widely considered the first dub reggae LP ever recorded. He performs the album live in its entirety for the first time on Saturday.
Elsewhere
599 Johnson Ave., Bkyln
SAT OCT 27
7:30 PM–11PM • $8, 21+
MUSIC: Rocky Horror Picture Show and Bob's Burgers Halloween Extravaganza
Local musicians perform music from Bob's Burgers and, in its entirety, the score from Rocky Horror. Costumes encouraged.
Coco SixtySix
66 Greenpoint Ave., Bklyn
SAT OCT 27
8PM–12AM • $15 suggested donation
PARTY: Red Scare
Dress as your favorite revolutionary or wear something red (and spooky) to this fundraiser for the Democratic Socialists' Central Brooklyn branch.
Verso Book
20 Jay St., 10th Fl, Bklyn
SUN OCT 28
1PM–7PM • FREE
PARTY: Tompkins Square Halloween
Performers include: GLOB (Gorgeous Ladies of Bloodwrestling), SoulCake, Baby Machine, Public Serpents (featuring Skwert of Choking Victim), Skull Caster and Night Gallery (featuring Kitty Hawk). Costumes encouraged.
Tompkins Square Park
500 E. 9th St., Mnhtn
SUN OCT 28
4PM–6PM • FREE
SYMPOSIUM: A Municipalist Approach for Radical Democracy
A growing movement across the globe is seeking to decentralize and feminize political institutions at the level closest to our day-to-day lives: the neighborhoods in which we live and work. Marisa Anne Day of Fearless Cities North America and Kelly Roache of Symbiosis provide an introduction to municipalist frameworks, guide an experiment with the participatory tech tool sli.do, and hold space for a community conversation.
Woodbine
1882 Woodbine St., Queens
WED OCT 31
8PM–10PM • $15–$20
POETRY: Harpy Land
The Poetry Project is having a Halloween party set in the gleeful, subversive landscape of Helen Adam's collage poem "In Harpy Land" — a world presided over by priestesses, witches and indomitable women. A night of rituals, readings and performances. Drinks with admission.
The Poetry Project at St. Marks Church
131 E. 10th St., Mnhtn
---
Photo (top): Lee Scratch Perry. Credit: Preetam Slot.