The Indypendent's events calendar comes out every Wednesday online and once a month in print. Sign-up for our regular e-newsletter and you won't miss a thing. If there is an event you want others to learn about let us know.
THURS FEB 21
4PM–6PM • FREE
LIT: Workers Art Coalition Blue Collar Zine Reading and Discussion
Workers Art Coalition (WAC) will host a reading from their developing zine Blue Collar. After an introduction to their work, members of the collective will read excerpts of the developing project, inviting the audience to engage in an intimate conversation on art, labor and life.
HERE Arts Center
145 6th Ave., Mnhtn
THURS FEB 21
6:15 PM–7:45PM • $10–$40
FOOD: Pungent Politics: Preserving an Ancient Culinary Tradition
Cetara is a small fishing village nestled along Italy's Amalfi Coast, where for centuries residents have fermented anchovies into the piquant sauce colatura di alici, a local specialty. The decision to turn Cetara's hyperlocal condiment into an international commodity roiled the village, sparking continuing debates over issues of authenticity, local production methods, supply chains and sustainability. Food scholar Claire Alsup traveled to Cetara in 2017 to examine these issues and she will share her findings. A wine reception follows her talk, with a tasting of colatura di alici and antipasti featuring colatura and its main constituent, anchovies.
CIMA Center for Italian Modern Art
421 Broome St., 4th Fl., Mnhtn
THURS FEB 21
6:30PM–8:30PM • FREE
TALK: Revisiting Alex Haley's Autobiography of Malcolm X
The Schomburg's recently-acquired manuscripts of The Autobiography of Malcolm X include handwritten corrections and notes between Malcolm X and Alex Haley, and the full, unpublished chapter titled "The Negro." Scholars discuss these revelatory materials, and how they may shape a more authentic understanding of X as a political thinker and pioneer of Black liberation philosophy.
Schomburg Center for Research in Black Culture
515 Malcolm X Blvd, Mnhtn
FRI FEB 22
6:30PM–8:30PM • FREE
TALK: Predictive Policing & the Stalker State: Hamid Khan & Alex Vitale
Hamid Khan, founder of the South Asian Network in conversation with Alex Vitale, author of The End of Policing, on the problems with predictive policing and the state's expanded capacity to trace, track and monitor us.
St. Mary's Church
521 W. 126th St., Mnhtn
FRI FEB 22
7PM–9:30PM • FREE
AUTHOR TALK: Lesley-Ann Brown
Brown's Decolonial Daughter: Letters from a Black Woman to her European Son explores motherhood, migration, identity and nationhood.
Bluestockings Bookstore, Cafe & Activist Center
172 Allen St., Mnhtn
FEB 22–FEB 26
FRI–TUES, showtimes vary • $13–$110
FILM: Neighboring Scenes 2019: New Latin American Cinema
From established auteurs to fresh talent from the international festival scene, experience the diverse cinematic language of Latin America.
Film Society of Lincoln Center
165 W 65th St., Mnhtn
SAT FEB 23
9:30AM–3:30PM • FREE
CONFERENCE: NYC Anarchist Mental Health Conference
Come strategize ways of incorporating anarchist values into mental health work.
Judson Memorial Church–Assembly Hall
239 Thompson St., Mnhtn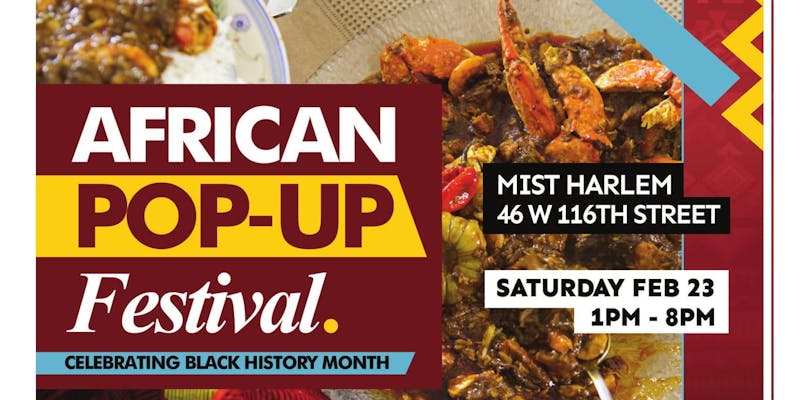 SAT FEB 23
1PM–8PM • $15
FESTIVAL: African Pop-Up Festival
Celebrate BHM and experience the sounds, sights, styles and tastes of Africa.
MISTHarlem
46 W. 116th St., Mnhtn
SUN FEB 24
1PM–2:30PM • FREE
WALKING TOUR: The Birthplace of Hip Hop
Join the Urban Park Rangers and learn about the history of hip hop at its earliest incarnation as an underground urban movement.
Cedar Playground
W. 179th St. & Sedgwick Ave., Bronx
MON FEB 25
6PM–8:30PM • FREE
SCREENING: Decade of Fire
In the 1970s, the Bronx was on fire. Left unprotected by the city government, nearly a half-million people were displaced as their close-knit, multiethnic neighborhoods burned. Bronx native Vivian Vazquez exposes the truth about the borough's sordid history and reveals how her embattled and maligned community chose to resist, remain and rebuild.
Latin Fever On2 Dance Studio
1609 Cortelyou Rd., Bklyn
MON FEB 25
6PM–9:30PM • FREE
PARTY: Audre Lorde's Birthday
Celebrate Audre Lorde's 85th birthday and her lasting legacy. Come for dinner, drinks, cultural performances, dancing and good company.
The People's Forum
320 W. 37th St., Mnhtn
MON FEB 25
6:30PM–8PM • FREE
TIME AND SPACE: Avery Gordon: Archiving in the Future Perfect Tense
We tend to think of the archive as a repository of memories, things and documents. Avery Gordon asks, "What kind of archive safeguards a past that the present hasn't yet caught up with? Can such a past be summoned to haunt the present as an alternative?"
James Room (4th floor)Barnard College
3009 Broadway, Mnhtn
MON FEB 25
7PM–9PM • FREE
BOOK LAUNCH: Capital City: Gentrification and the Real Estate State
As Samuel Stein makes clear in this tightly argued book, it's through the seemingly innocuous profession of city planners that we can best understand gentrification here in NYC. Planners provide a window into the dynamics of urban change: the way the state uses and is used by organized capital, and the power of landlords and developers at every level of government. But crucially, planners also possess some of the powers we must leverage if we ever wish to reclaim our cities from real estate capital.
Verso Books
20 Jay St., Suite 1010, Bklyn
WEDS FEB 27
6PM–8PM • FREE
TALK: Defeating Lawfare
Last year, Prof. Rabab Abdulhadi fought back efforts by the Lawfare Project to use the courts to destroy the Arab and Muslim Ethnicities and Diasporas Studies program at San Francisco State University. They won their case — a decisive blow against Lawfare's McCarthyite tactics of harassment and bullying. The legal victory sends a strong message to other campuses where Palestine-related teaching, scholarship and advocacy are under attack from right-wing organizations. But the struggle is far from over. Come meet Prof. Abdulhadi.
CUNY Graduate Center
365 Fifth Ave., Room 5414, Mnhtn
---
Photo (top): Still from Buy Me a Gun (Cómprame un Revolver), among films screening at Lincoln Center's Latin American cinema showcase this week. Catch its U.S. premier. Credit: Burning Blue/Woo Films.