The Indypendent's events calendar comes out every Wednesday online and once a month in print. We provide this calendar as a service to the communities we serve in the New York metropolitan area. Sign-up for our regular e-newsletter and you won't miss a thing. If there is an event you want others to learn about, let us know.
THURS SEPT 6
5:30PM • FREE
RALLY: New York Rise for Climate, Jobs and Justice
Days before the Global Climate Action Summit convenes in San Francisco, people across the country and around the world will take to the streets demanding elected officials commit to the most far-reaching and effective policies possible.
Battery Park, Mnhtn
THURS SEPT 6
7PM–9PM • FREE
TALK: How to End the Police State
Join author-activists Alex Vitale and Andrea Ritchie for a wide-ranging conversation on police violence, the limits of police reform and the work being done against police violence and the carceral state.
Verso Books
20 Jay St, Ste 1010, Bklyn
FRI SEPT 7
12PM–12AM • FREE
ART: The Wall Project Brooklyn
A creative collision of beer, art and music. Eight muralists painting live, live music and street food.
The Well
272 Meserole St., Bklyn
FRI SEPT 7
7PM–9PM • $5–$10 suggested donation
PANEL: Resisting and Reporting on ICE
A discussion about the opportunities — and limits — of collaboration between journalists and activists within the national movement for a humane and fair immigration system. The Intercepts Ryan Devereaux and Alice Speri join Andrea Sáenz of Brooklyn Defender Services and Benjamin Ndugga-Kabuye of the Black Alliance for Just Immigration.
Mayday Space
176 St. Nicholas Ave., Bklyn
SAT SEPT 8
10:45AM–5:30PM • FREE
CONFERENCE: Taíno: A Symposium in Conversation with the Movement
Celebrate the exhibition Taíno: Native Heritage and Identity in the Caribbean on view at the National Museum of the American Indian through October. Explore the history of the Taíno movement in dialogue with Taíno/Indigenous Caribbean community leaders and cultural workers.
National Museum of the American Indian
One Bowling Green, Mnhtn
SAT SEPT 8
11AM–7PM • FREE
FESTIVAL: SoulFest 2018
The diverse population of Medgar Evers College and Central Brooklyn gather to share their culture. Tickle your taste buds with the flavors of Brooklyn and soothe your soul with art. Play a few games while you're at it and support student scholarships.
Medgar Evers College, CUNY
1650 Bedford Ave., Bklyn
SEPT 8–SEPT 9
1PM–2AM SAT, 1PM–11PM SUN • $35–$75, 21+
FEST: Bushwig
Twenty-three hours of non-stop drag performances, live music & DJs.
Knockdown Center
52-19 Flushing Ave., Queens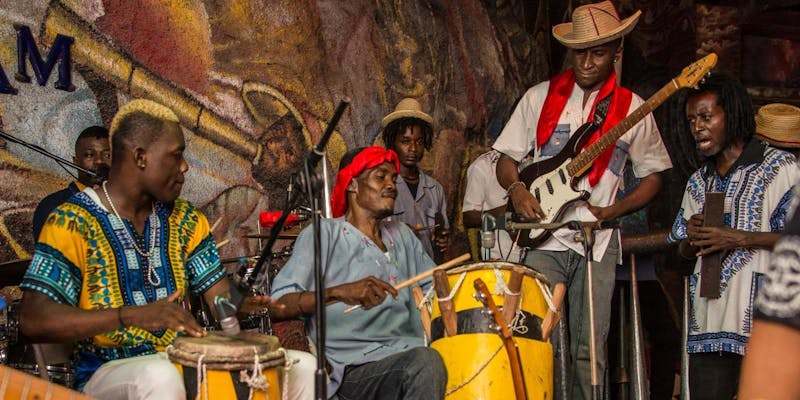 SAT SEPT 8
3PM–5PM • FREE
DANCE: Haitian Folklore Dance and Rara Workshop with RAM
An afternoon of dancing and drumming to explore Haitian folklore dance and rara (a form of festival music originating in Haiti) hosted by RAM, a drum-roots-driven powerhouse band from Port-au-Prince. Those interested in participating in the rara drumline must bring their own hand or percussion instrument. This event is taking place in conjunction with Pioneer Works' exhibition PÒTOPRENS: The Urban Artists of Port-au-Prince on view Sept. 7 to Nov. 11.
Pioneer Works
159 Pioneer St., Bklyn
SAT SEPT 8
4PM–10PM • $20–$250
PARTY: Afrobeats Block Party
Music, barbeque and bodypainting at one New York's hidden gem outdoor spaces.
The Bronx Brewery
856 E. 136th St., Bronx
SAT SEPT 8
5:30PM–8PM • FREE
BOOK LAUNCH: Unapologetic: Charlene A. Carruthers & Maurice Mitchell
Join Maurice Mitchell, the new National Director of the Working Families Party in conversation with Charlene A. Carruthers, founding national director of the BYP 100 to talk about Unapologetic: A Black, Queer, and Feminist Mandate for Radical Movements, her guide as a 21st-century activist to upending mainstream ideas about race, class and gender.
Starr Bar
214 Starr St., Bklyn
SEPT 8 & SEPT 15
SAT 7PM–11PM • $15
FESTIVAL: Dissent Arts Festival
A showcase of revolutionary creativity on stages in Williamsburg (Sept. 8) and the East Village (Sept.15). Featuring jazz virtuosos and spoken word prophets, the festival will raise funds for organizations fighting for social justice: the Rosenberg Fund for Children, Alliance of Families for Justice and the NYC Jericho Movement. Visit dissidentarts.com for a full program.
17 Frost Theatre and Gallery
17 Frost St., Bklyn
&
5C Café & Cultural Center
68 Avenue C, Mnhtn
SAT SEPT 8
11PM–4AM • $10–$12
MUSIC: A Lil Party — All "Lil" Artists All Night
Spinning music by Lil Wayne, Lil Jon, Lil Kim, Lil Yachty, Lil Pump, Lil Boosie, Lil Uzi Vert, Lil Baby, Lil Peep, Lil Dicky, Lil Mama, Lil Xan, Lil Debbie, Lil Durk, Lil Skies, Lil Cease, Lil Rob, Lil Reese, Lil Scrappy, Lil B and a lil more.
Baby's All Right
146 Broadway, Bklyn
SUN SEPT 9
2PM–4PM • FREE
MUSIC: Princess Nokia Puerto: Rico Fundraiser & Signing
The politically-charged rising rap star hosts this benefit for the debt-straddled, hurricane-hit island. Proceeds of all record sales go to Nokia's Hood La Gente. Visit roughtrade.com for a list of items you can bring to donate.
Rough Trade NYC
64 N. 9th St., Bklyn
This is reader-supported news. Make a contribution today!
---
Photo (top): Dance, drink and drag at Bushwig, Sept. 8–9. Cred: Maro Hagopian and Sasha Zabelina