The Indypendent's events calendar comes out every Wednesday online and once a month in print. Sign-up for our regular e-newsletter and you won't miss a thing. If there is an event you want others to learn about, let us know.
THURS JAN 3
6PM–7:30PM
SCREENING: Gordon Matta-Clark's Food
This film documents the eponymous legendary SoHo restaurant which opened in 1971. Owned and operated by Caroline Goodden, Food was designed and built largely by Matta-Clark, who also organized art events and performances there. As a social space, meeting ground, and ongoing art project for the emergent downtown artists' community, Food was a landmark that still resonates in the history and mythology of SoHo in the 1970s.
Bar Laika
224 Greene Ave., Bklyn
FRI JAN 4
7:30PM–Midnight • $10, in advance, $12–$15 at the door
MUSIC: Punk Island New Year's Show
Start the new year right with SOUL GLO and All Torn Up at this benefit for Punk Island, which stages a free, all-ages DIY music festival every summer.
Sunnyvale
1031 Grand St., Bklyn
FRI JAN 4
8PM–11:55PM • $20
MUSIC: Yemeni Crisis Benefit featuring Mystic 100's
MYSTIC 100's (formerly Milk Music) play their first East Coast show in over five years to support the Zakat Foundation of America, which is providing emergency humanitarian relief to the people of Yemen.
Brooklyn Bazaar
150 Greenpoint Ave., Bklyn
JAN 4–JAN 12
times vary • $15–$55
MUSIC: Winter Jazz Fest
A hotbed of cultural discovery, presenting new and exciting sounds and scenes throughout New York. The music marathon that takes place during the festival's Friday and Saturday nights gives audiences full access to all participating venues from early evening, deep into the wee wee hours. This year's headliners include Gary Bartz, Pharoah Sanders, Fey Victor, Marc Ribot and The Bad Plus. Visit winterjazzfest.com for a full schedule and a list of participating venues.
SAT JAN 5
7PM–2AM • $10
MUSIC: Secret Planet
Secret Planet's lineup continues its tradition of showcasing new talent that is unlikely to remain secret for very long. This year, artists play their own version of music from South Africa, Niger, Turkey, Lebanon, Cuba, Greece, Peru — and New York, because it seems more and more apparent that New York really is its own country.
DROM
85 Ave. A, Mnhtn
SAT JAN 5
8:30PM • $25
DANCE: The Dance Cartel — ONTHEFLOOR
Driven by pumping bass, glitter and dance theory in near-equal parts, the Dance Cartel's ONTHEFLOOR is a 90-minute, energy-busting experience that fuses high-octane choreography with a party vibe.
Public Arts
215 Chrystie St., Mnhtn
SAT JAN 5
11PM–4AM • $5–$8, 21+
MUSIC: Oscillate Wildly: The Celebrated NYC Smiths & Morrissey Fan Party
An all-night dance party established in 2010 that pays homage to the brilliant musical legacy of Manchester legends The Smiths, as well as the extensive solo career of Morrissey.
Saint Vitus Bar
1120 Manhattan Ave., Bklyn
SUN JAN 6
2PM–5PM  • FREE
PARADE: Brooklyn Three Kings Day Parade 2019
Experience gold, frankincense and mirth in Williamsburg.
Meeker Ave. & Graham Ave., Bklyn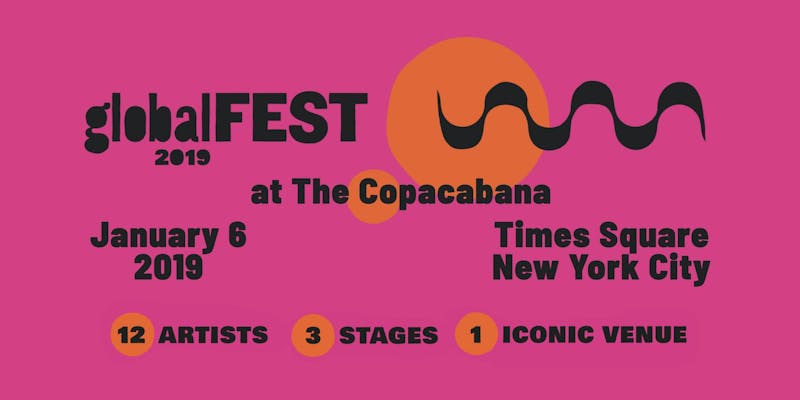 SUN JAN 6
6PM–2:30AM • $50
MUSIC: globalFEST 2019
A celebration of new artists, old perspectives and expansive cultural traditions.
The Copacabana Times Square
268 W. 47th St., Mnhtn
SUN JAN 6
7PM–11PM • $25, in advance, $30 day of, 16+
MUSIC: Noname
This Chicago rapper is one of the most hottest rising talents around. Her Saturday show sold out, so grab tickets for this one before it is too late.
Brooklyn Steel
319 Frost St., Bklyn
SUN JAN 6
8PM–12AM • FREE
MUSIC: Wild Leek River, Ali Dineen, and The Four O'Clock Flowers
Some good ol' country, blues, and roots music.
Starr Bar
214 Starr St., Bklyn
TUES JAN 8
7PM • FREE
HISTORY: An Céad Dáil Éireann agus an Ghaeilge
Commemorate the 100th Anniversary of the establishment of the first democratic National Assembly of Ireland, the First Dáil Éireann and the Declaration of Independence for an all Ireland Republic. A look at why the democratic mandate of the Irish people was not respected and what it has meant for all aspects of Irish life, including the Irish language.
Rocky Sullivan's
46 Beard St., Bklyn
---
Photo (top): Get ONTHEFLOOR with the Dance Cartel at ​Public Arts on Jan. 5. Credit: Maddy Talias.